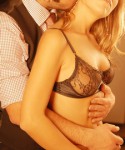 Have any of you potential cuckold husbands fantasized about signing a cuckold prenuptial agreement?  Cuckold humiliation is especially potent when it's committed to writing and has your signature agreeing to it, isn't it? Especially if it's an actual legal document that spells out the specifics of your cuckold humiliation, with the threat of it being made embarrassingly public in court if your hot wife decides to divorce you.
Well, cucky boy, my cuckold prenuptial contract is your fantasy come true. It was written for me by a cuckolded lawyer and has all a cuckold's duties and responsibilities explicitly detailed in 3 pages of legalese.  Your face will turn redder and your cock will get stiffer with every humiliating paragraph you read.
So read it and then let's conjure up a hot humiliation phone sex role-play. Like a meeting with your future wife's sexy female lawyer for her to review that contract with you before you sign it. Or a smirking female judge questioning you about it in divorce court. Or maybe you have an even more embarrassing cuckold humiliation fantasy?
Cuckold Prenup