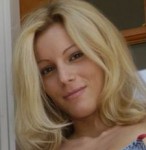 For some of you sissy boys, the desire to be feminized isn't about wanting to be female. It's a craving for the humiliation of forced feminizaion and sissification.
I love dressing up sissy boys and making you into a humiliating parody of a woman. It's hot to watch you blush with embarrassment when I put you in a frilly sissy maid dress with stockings, petticoat and ruffled sissy panties. And see you flush with shame even more when I transform you into a feminized sissy slut, with 5 inch "fuck me" heels, fishnet stocking and a tiny, tight latex mini skirt so short it shows off your thong decorated ass cheeks.
But the humiliation won't end there.  Just think how your little clittie is going to throb when I introduce you to the ultimate feminization humiliation and make you open your whorishly painted red lips to suck my boyfriend's big cock.
Sexy, playfully sadistic femdom humiliation phone sex.